In 2014, Lyme Connection contacted Firespring to create a website for them that was "easy to maneuver," not just for their online visitors, but also for their staff on the back end. They wanted the ability to update events, post current news items and make content changes quickly, without the help of a programmer—but they also needed a good support system with people available to call when tech questions came up. Like most nonprofits, they didn't have a computer expert on staff, so they relied on Firespring's expertise in that area.
Their new site went live quickly, and activity increased within just a few weeks. Plus, they were pleased with how easy it was to manage their content and make changes with just a few clicks.
They also appreciated the impact their new site had on their supporters—it demonstrated a level of seriousness about their mission, to have a site that was well structured with important information at their fingertips. And with sponsor pages, they were able to partner with like-minded organizations and companies and provide links back to their sites.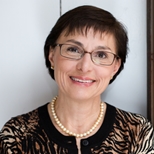 "The thing I like most about updating our website is that it's very easy. I don't feel intimidated by the process. When I sit down at the end of the day and want to add things, I know I can do it very easily and quickly. It can be very current, and that makes it exciting for people. It gives them a reason to check back."
—Jennifer Reid, Executive Director